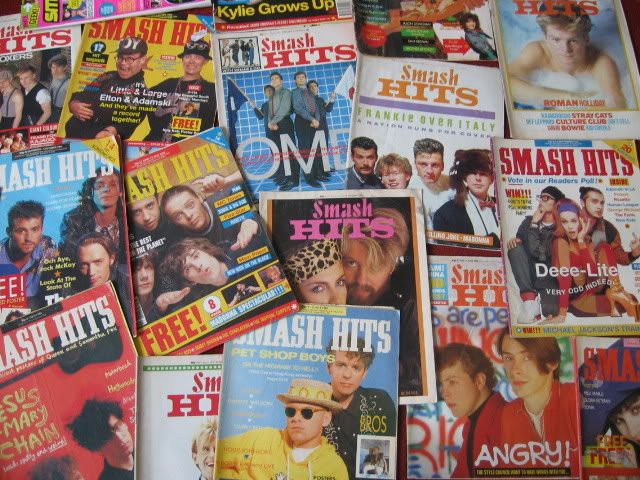 On February 13th 2006 Smash Hits was published for the final time, having succumbed to the pratfalls of the pop publishing industry. But now it's back! Back! BACK! Currently propping up the record shelves in a shop near you, is "Smash Hits: The 80s" - a three disc compilation of pop from that decade. It is mostly brilliant, but the best of it is half-forgotten things like "Since Yesterday" by Strawberry Switchblade or "Each Time You Break My Heart" by Nick Kamen. It is a companion to the "swingorilliant" book "The Best Of Smash Hits: The 80s", edited by Mark Frith. Now on sale in Chapters for just €3 (a snip!), you'd be a fool to miss this trip through the greatest reading matter of its day. The publication which gave our language the phrases "A so-called famous so-called Astrologer writes…", "Sniiiiiip!", and "Aaaack-tualloi…" The publication for which Vic Reeves once applied to be editor (which in itself speaks volumes), which campaigned for the knighthood of Cliff Richard, and referred to him as Sir Cliff before the event anyway. A world where foxtresses (i.e. scantily clad young ladies of the "not-very-ugly" variety) could be seen "cavorting" with various "Uncle Disgustings" (i.e wrinkly old goats of a pervy "bent" like Rod Stewart, Mick Jagger or Robert Palmer in the video for "Addicted To Love"). It was the magazine which deployed inverted commas in a way which was frankly baffling at first, but which alerted us to the clichés of rock journalism. The magazine which stumped its interviewees with a series of searching and frequently barking mad questions; "You're not very good at acting, are you?" (to "Dame" David Bowie), "What colour is January?" (to Wayne Hussey of The Mission), "Have you ever been sick in a kangaroo's pouch?" (to Jason Donovan) and "Does your mother play golf?" (to Susannah Hoffs). Its letters page was presided over by the devastatingly sarcastic Black Type, a shadowy figure which would extol the virtues of Um Bongo and weather presenter of "yore" Wincie Willis, as often as he'd keep to the subject of pop, and who was "killed off" when a picnic table supposedly fell on him, only for the character to be revived 10 months later insisting that "It was all a dream!" - Dallas-style.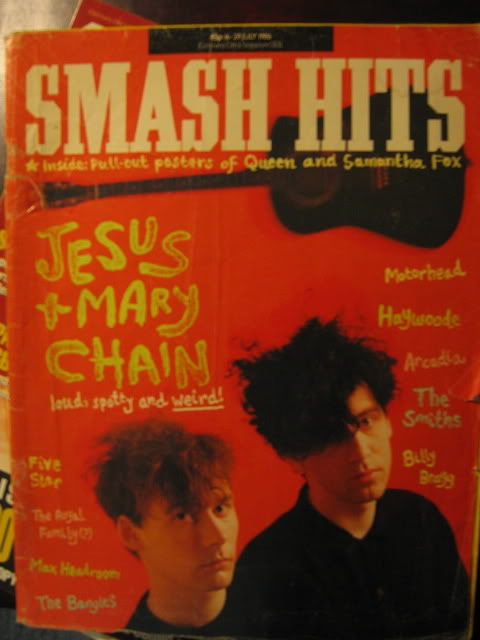 It was, in short, the wittiest and most beguiling music publication in the world for about 7 years (between 1983 and 1990, really), but ended ignominiously, ignored by the public in February 2006. The question is: how did it go from selling a million copies in 1988 to disappearing in a cloud of disinterest 18 years later? Smash Hits emerged in the wake of punk and was the brainchild of ex-NME editor Nick Logan. With the bright, brash, colourful rise of the New Romantics in the early 80s, Smash Hits – being glossy rather than inky – was in a position to print captivating pics of mean, hunkin' pop stars such as Adam Ant, David Sylvian and John Taylor (of Duran Duran). By the mid 80s it outsold the NME, Melody Maker and Sounds combined by almost 3:1. Smash Hits reflected the humour of pop after the dourness of post-punk. NME was littered with postmodern critiques of pop by the likes of Paul Morley and Barney Hoskins, whereas Smash Hits was more at home getting Robert Smith of The Cure to appear on the cover peeking out from behind a fish-tank. While the legendary "hip-hop wars" raged at the NME, Smash Hits ran bets on who would replace the recently departed Clark Datchler as singer of 1980s chart-botherers Johnny Hates Jazz (Fish, who had just left Marillion, got their vote of confidence - narrowly beating Blockbusters presenter Bob "I'll have a P please, Bob" Holness into second place).
Peak-period Smash Hits does read rather like the place where the pop journalism and surrealist comedy collide. This is due to the in-jokey nature of the writing, the willingness of pop stars to put themselves forward for a slagging, and the tone of the magazine - which wonderfully straddled disdain for, and devotion to, pop music. Smash Hits journalists took it for granted that pop music was at once the most ridiculous and most wonderful thing on the planet. And with the likes of Julian Cope, Five Star, Terence Trent D'Arby, A-ha, Morrissey and Prince filling its pages week after week, it's not hard to see why. Even Margaret Thatcher deigned to grant an interview in the run-up to the 1987 general election, responding to journalist Tom Hibbert's enquiry into a possible knighthood for Cliff Richard with a terse "Always be serious!" Smash Hits was never really serious, but it still managed to criticize the pop of the time in a fairly comprehensive manner. The review for Duran Duran's 1988 LP "Big Thing" concluded that "the dumper beckons" – "going down the dumper" being the resting ground for no-longer-famous, no-longer-any-good pop stars. Memorably, the magazine once declared "The dumper has no bottom, but if it did have a bottom you'd find Paul King there." Pop stars' egos were systematically set upon. Most notable in this regard, was Jon Bon Jovi, who humourlessly objected to questions such as "Have you any interesting scars?" and "Have you any good fishing tips?" in a manner which seemed to speak volumes about the man. "Come on, man!," barked the bouffanted one, "Ask me about life on the road, or how I write my songs! Do I know any good fishing tips? I mean, jeez, who gives a shit!?" It's funny how a banal question can penetrate the surface isn't it. The magazine's readers were always referred to as "viewers" (as if this were all taking place on TV). Interjections from the "editor" peppered the magazine. Overly esoteric articles would end with an abrupt "(Series discontinued – you're sacked! – Ed)". If a pop star was rabbitting on drearily, or veering into pervy subject matter, they would be stopped in their tracks with the phrase "(Sniiiiiiiiiipp!)". Black Type's letters page was frequently interrupted by a sleazy publisher character. To wit: "A publisher writes: It's an outrage! Take a letter Miss Pringle. Er, by the way, Miss Pringle…have I ever mentioned what an uncanny resemblance you bear to erstwhile "sex-kitten" Marilyn Monroe? Did you perchance see that film where Ms Monroe steps on a vent thingie, allowing the breeze to raise up her skirtings, revealing her undergarments and shapely legs? I wonder if you would oblige me by… (Sniiiiiiiiiiiiiiip!! – Ed.)"
One Smash Hits innovation was to get pop stars to review the new singles. In a memorable moment of grumpiness, "professional misery" Morrissey dismissed Alphaville's "Forever Young" with the withering one-line review: "They should have been drowned at birth". Samantha Fox (always referred to in the magazine as Sir Samuel Saucepot of Fox), had the following to say of Paul McCartney's 1986 single "Press": "Yeah, he's grey, but my dad's grey and Michael Heseltine is grey…" Enlightening stuff. She wrapped up by adding that she "grew up with Sgt Pepper's records in the house". It's difficult to imagine, say, Paris Hilton's P.R. people allowing such things to reach the light of day. This is probably the key to Smash Hits' gradual demise in the 1990s. As pop stars became more and more au-fait with the ins-and-outs of the career aspect of being a pop star, they started to get wise to interview techniques. When Eternal took a year out to go on a public relations course in 1999, Smash Hits' fate was all but sealed, really. Not that the magazine was cruel. (Well, okay it was cruel to Chesney Hawkes, whose career the magazine never took with the same gravitas as the pimpled pop star did). You could genuinely get a sense that the staff of Smash Hits cared about and even loved pop music. And pop in this sense meant Half Man Half Biscuit and The Jesus and Mary Chain as much as it did Kylie and Jason. One of Smash Hits' staff members, Neil Tennant, left his position as assistant editor in 1985 to scale the charts himself as a member of Pet Shop Boys. Almost certainly, Tennant's innate understanding and appreciation of pop music informed his actual pop star career.
Smash Hits' parlance is ingrained deeply in the consciousness of anyone who grew up with the magazine in the 1980s. "Perv-breeks" were usually leather trousers as worn by a member of a "rawk" group, and such band members' more excessive lifestyle choices were referred to in oblique but hilarious fashion. Alcohol was "rock and roll mouthwash". To be drunk was to "have a bit of a summer cold", having had "one Tizer too many". And to be in the throes of a rockstar ego strop was "to be in a bit of a tizz because fame is, like, a double-edged sword…" Anyone who over-used the old hairspray was said to be in possession of a "fright-wig". This led Italian popstress Spagna (of "Call Me" notoriety) to protest: "Is not, 'ow you say, a frighten wig. Is real hair." Smash Hits would always print the words of pop stars phonetically to capture their faltering English as you can see above, and the phrase "sic" was never necessary. It would even print out how a pop star laughed ("Hihihihihihihihiii!", in the case of Kylie. Or "hurhurhurhur" in the case of Lemmy from Motorhead.) This has become standard journalistic practice, it seems. Taking their verbatim obsession to extremes, 'ver Hits (as it was known) would faithfully reproduce even the most monotonous acid-house song lyrics. Its coup-de-grace in this area was its reproduction of the lyric to Art Of Noise's 1984 hit "Close To The Edit" (i.e. "Dum dum/ dum dum dum dum dum dum dum dum/ Dum dum dum, tra la la".)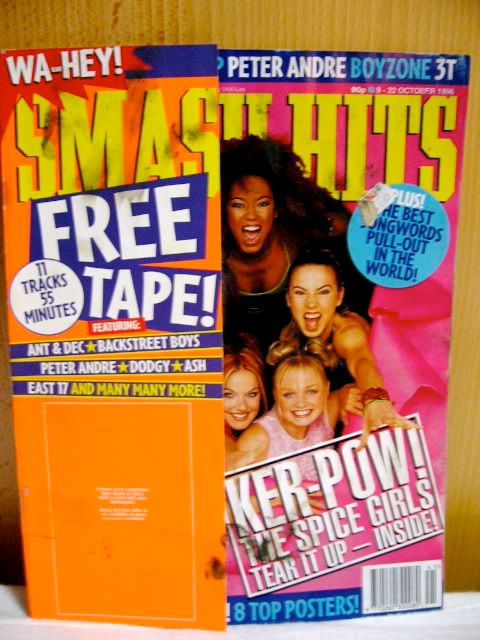 The influence of Smash Hits is extraordinarily far-reaching. Now you find interviews with Britney Spears and Franz Ferdinand in broadsheet newspapers, on the 6 o'clock news and so on. This was not really the case before Smash Hits came along. These days it seems that everyone is a pop critic, anyone can maintain an on-line "blog" or post to a message board or forum of some description and vent. Some use their Bebo or MySpace accounts to offer their observations on the world of popular culture. Things like Popjustice.com allow for anyone and everyone to contribute, and Popjustice's editor Peter Robinson (himself an ex Smash Hits "scribe") is clearly keen to keep Smash Hits' joyous, witty approach to pop alive. Likewise, Popworld (especially when it was under the guidance of Simon Amstell) is very much in the vein of Smash Hits at its best. Smash Hits itself really started to fall asunder in the early 1990s, when a paucity of pop stars meant it had to be content with any interviewees it could get. House and rave were too faceless, too druggy for Smash Hits to tackle. Take That, East 17 and Britpop in the mid 90s saw a brief resurgence of Smash Hits' fortunes, but by the new millennium and the proliferation of things like Pop Idol, Fame Academy and Big Brother, a kind of pop meltdown had been reached. And by this time Smash Hits had become a rather sorry, humourless thing. The final issue "boasted" "naked McFly pics!" Good grief.
At a time when the circulation of the NME is barely traceable, when pop and rock has been overrun with careerists (a recent edition of the NME suggests that you use your degree to further your career as a music journalist, yeah smash the system eh kids?!), it seems that Smash Hits' irreverence is needed now more than ever. It does seem fair to say that Morrissey is intrinsically more interesting than Ricky from Kaiser Chiefs. What a swizz. When I bought "The Best Of Smash Hits: The 80s", I approached the counter with crisp €20 in hand, and on mentioning that I'm entitled to a student discount, the shop assistant chirruped "that will be €19.84 then please. Approriate really, eh?" The girl stood next to him then mentioned that she wasn't even born in 1984 and a brief discussion of 80s style ensued between them.
What "larks", eh viewers? (Yes, that's quite enough Smash Hits speak thank you – Ed.)
"Smash Hits: The 80s" is out now on Rhino Records. "The Best Of Smash Hits: The 80s" (Ed. Mark Frith) is also out now, and published by Sphere.