For about five seconds towards the end of 1995, Romo flourished. It was, in effect, a revival of New Romantic or New Pop ideas but its advocates preferred to talk of it as a renaissance (as "revival" had connotations of grey lad-rock and fag-end britpop: things which Romo was very much supposed to be the antidote to). I wanted Romo to succeed, believe me. Certainly by 1996 the occasionally brilliant indie-pop explosion of the previous three years had turned into something much more pedestrian, much duller and more in thrall to the history of rawk. Bands like Ocean Colour Scene and Cast epitomised this dish-water dull attitude towards pop. It was conservative, priggish and earnest. Awful rockist notions of authenticity and soul held sway and it was from this point on that brit-pop's more open-minded tendencies started to have less and less influence over chart pop. The panoramic, widescreen pop of "The Great Escape", "Different Class" and "Giant Steps" showed that at its best mid 90s English pop could scale the heights set in the early 80s by people like ABC, The Associates and Scritti Politti. The best of the Romos understood that. Orlando for example loved Richey Edwards period Manic Street Preachers as much as they did the Human League. They wanted to be the biggest pop group of the late 90s, one which fused literate, (dare-I-say-it) intellectual references with the pure rush of classic Motown, disco and synth pop. So yes, towards the end of 1995 I would have been a willing convert to this happening, gloriously witty scene.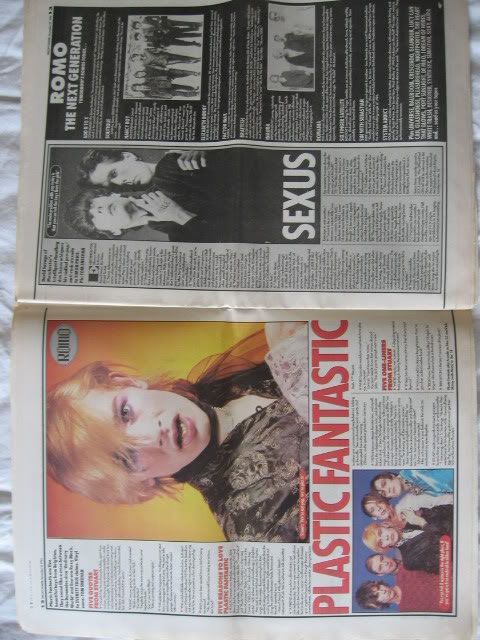 And then I heard the records. Seriously, the disappointment of hearing the free cover-mounted Romo tape which Melody Maker gave away in March 1996 stays with me to this day. I'm listening to it now; Holywood, Dexdexter, Plastic Fantastic...the names are great, but the music is utterly abysmal. Cheap-sounding, badly recorded, predictable and tuneless nonsense the lot of it. Romo really died with it. Within weeks Simon Price - who up to this point had been (along with Taylor Parkes) Romo's biggest champion - wrote the movement's obituary in the "Viewpoint" section on MM's letters page. But the Romo issue of Melody Maker is a riot. Many people, including myself, believe that this represented another nail in that music weekly's coffin. It is a pity things worked out that way because it was a brave thing to do, to put the motley crew you see above on the front of Melody Maker at the height of Britpop, in a week when Blur, PJ Harvey and David Bowie were vying for space in its inner pages. Among the highlights of the issue's 8 page Romo extravaganza are the interviews with Sexus ("I stood behind Jason Orange [out of Take That] in Holland & Barrett recently. For quite a while. It's kept me going for months."), Plastic Fantastic ("You can tell if a place is the right place, if you've got a free cocktail in either hand...") and best of all Orlando ("Our attitude towards other groups isn't one of malice. It's one of disappointment"). The movement's manifesto - or Romanifesto - is full of great throwaway lines too. Here are some of my favourites:
"Romo is, correct, élitist. But we are talking about a particularly democratic form of élitisim. Anyone can reinvent themselves. We can't help it if most are too dull to try."
"Romo is always believing you are gold."
"Romo is tearing open the map of Europa, our frontierless homeland, and gazing with romantic fascination at the place names: Valencia, Sorrento, Praha, Hammerfest, Zurich, Sarajevo, Arkhangelsk, London."
"Romo is the word, and shall be. Like 'dada': two simple syllables. Ro-mo. Romantic, Modernist."
"Romo is la nouvelle belle époque. Romo is hurtling into this fin of the siécle to fin all siecles with but one imperative: dance, for tomorrow, we die."
The main groups who feature in the piece are (in order of appearance); Orlando, Minty, Viva, Hollywood, Plastic Fantastic, Sexus, Add N To X, Boutique, Nancy Boy, Elizabeth Bunny, Factor Max, Brattish, InAura, Romania, Six Finger Satellite, Sin With Sebastian and System Addict. There follows a list of bands they suggest they didn't have room to include, but I'm convinced most of these are made-up; Universe, Ballroom, Crescendo, Glamour, Lucy Can Can, Glasshouse, Pleasurehead, Nightporter, The Heart That Glows, Port Sunlight, De Milo, I Dream Of Wires, White Trash, Designer, Synth SFX, Subaqwa, Silky and Aura. I mean, come on - "The Heart That Glows"? For fuck's sake...
Romo was of course largely the brainchild of Simon Price (author of a brilliant Manic Street Preachers biog and who now writes for The Independent) and Taylor Parkes who were always my favourite Melody Maker journos. Week in, week out, Parkes and Price would champion only the most NOW pop groups; TLC, Earl Brutus, Tricky, Kenickie, Pulp for example. It is because of them that for a brief time in the mid to late 90s Melody Maker was actually far better than NME (really after Danny Kelly, Stuart Maconie, Andrew Collins, Steve Lamacq and David Quantick had jumped ship). Romo - far from launching a new wave of freakish, effeminate, plastic pop stars to stardom - was really their big moment.
It is almost all complete and utter piffle. And I love(d) it.
My friend 23 Daves has a
great post about InAura on his blog "Left and to the Back"
. InAura were lumped in with the Romo crowd and the infamous MM Romo article has this to say about them: "Impertinently young, indecently pretty, InAura swagger with potential. Hardly surprising, given their cold-glittering cocktail of Suede/Bowie flashboyisms, lavish Depeche/Duran sweep, PSB undercurrents, cocksure riffola and plain old greed. Factor in singer Matt Carey's petulant, feline charisma and the mutant keyboard scapes of Magazine vet Dave Formula, and you'll be gagging for it." Their album "One Million Smiles" does contain a couple of great tracks in singles "Coma Aroma", the grandiose "This Month's Epic" (which sounds like Primal Scream on a good day) and the brill Duran-esque "Soap Opera". I saw the vid for that on The Chart Show at the time, and you can find it
here
now. So some Romo music was good. I should also mention Sexus' single "The Official End Of It All" which was just ace. A post about Orlando follows...