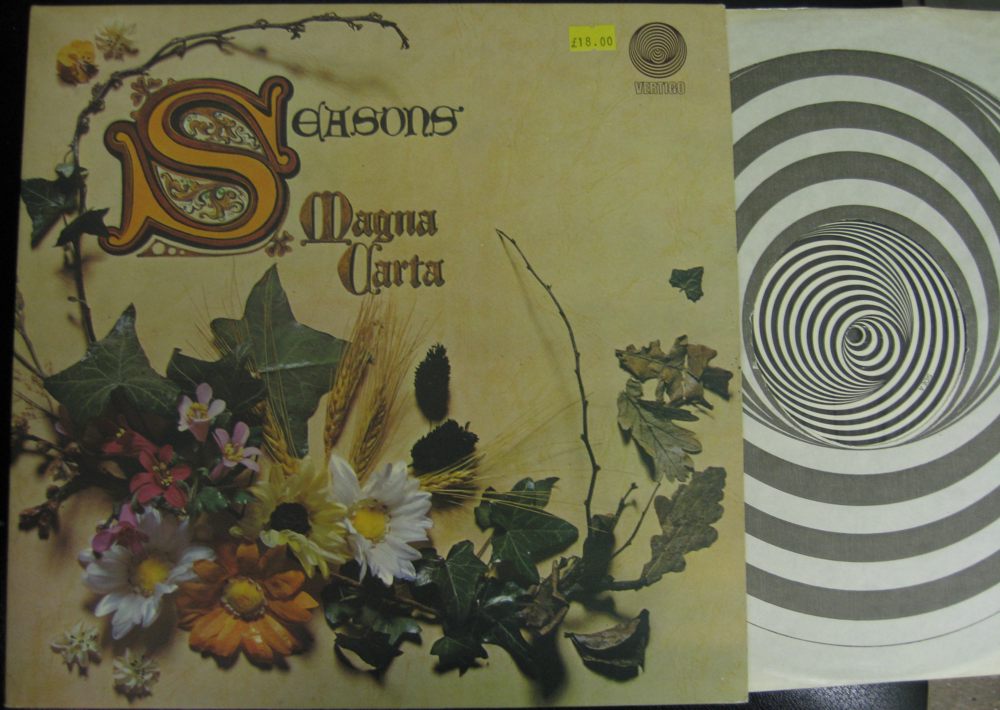 Have I ever mentioned the time our next door neighbour dropped around with some records she'd found in a dustbin? It was in 1990. Our next door neighbour in Balbriggan, Mary, was working in the Grand Hotel (which had fallen out of use for some years and which is now called The Bracken Court Hotel) when it was undergoing renovations. Parts of the grounds of the hotel had been untouched for years, and I like to think that it was in that part of the hotel that she made her find. She'd discovered about seven or eight vinyl LPs in a forgotten dustbin. She had no use for them herself but knew that my brother had a big record collection so she thought he'd like them. The records were (if I remember correctly):
Black Sabbath "Black Sabbath" (Vertigo, 1970)
Magna Carta "Seasons" (Vertigo, 1970)
Free "Tons Of Sobs" (Island, 1969)
Blood Sweat and Tears "Blood Sweat and Tears" (Columbia, 1969)
Rock Workshop "Rock Workshop" (Columbia, 1970)
Jimi Hendrix (I'm not sure which but I know it was a cheapo live album, possibly "Isle Of Wight Live" from 1971)
The Edgar Broughton Band "Wasa Wasa" (Harvest, 1970)
Pete Brown and Piblokto! "Thousands On A Raft" (Harvest, 1970)
They were all original vinyl copies in various states of distress, most of them were in gatefold sleeves, some were almost unplayable. My brother and I were familiar with some of the names there; Black Sabbath, Free, Blood Sweat and Tears and Jimi Hendrix. We had no idea who the others were. In fact I seem to remember my brother writing off to Mat Snow at Q Magazine to find out more details about these artists. This was a long time before the internet of course. I have since discovered that Pete Brown was involved with Cream and co-wrote their biggest hits.
The really brilliant thing about it was it was like discovering a time-capsule from 1970. And some of the records were brilliant, particularly "Black Sabbath" which also has just the most fantastic sleeve art. Earlier this week I dug out the records from above which I still own; Sabbath, Magna Carta, Rock Workshop and the severely warped Free record (it was like that when we got it). Magna Carta's "Seasons" has really grown on me over the years. Because this childhood memory has fired my imagination ever since, I have recently bought some prog-folk-rock box sets; Island's "Stranglely Strange But Oddly Normal: The Anthology 1967-1972", Harvest's "A Breath Of Fresh Air 1969-1974" and Vertigo's "Time Machine: The Anthology". Each set has three discs and a very detailed booklet (typically running to 40 pages and featuring band biographies and release dates etc.) And the music is largely brilliant. I'm going to collect up as much of this stuff as I can get. Even if it has to be on CD.
I'm quite obssessed with the very late 60s and early 70s now. Really the years 1969, 1970 and 1971 specifically. I even love films from that period. Especially creepy old horrors from the early 70s; things like
"And Soon The Darkness"
- a thriller thing with Michelle Dotrice in it which I remember staying up late to watch when it was shown on ITV in 1990 (it was a bit crap but that doesn't matter, I still might buy the DVD), "The Wicker Man" and
"From Beyond The Grave"
(both of which are from 1973) and old Hammer Horrors. That's the sort of time period covered in the records we found that day. I wonder who owned them originally? He was obviously a bit of a rocker with "a sensitive side". How long had they been in the disused hotel?
Yesterday I discovered
this great website
which is devoted to the early Vertigo "swirl" releases. There's nothing like fussing over old record sleeves, and those old Vertigo releases were beautiful things. Hope you enjoy perusing that site as much as I do.
I was wondering what I would put in a 2008 time capsule that might be discovered by some kids in the year 2030? If any readers have any suggestions I'd be interested to hear them.