The other day I fished some old copies of the NME out of the loft, which is where I came across this. From the Thrills section, edited and I assume written by Stuart Maconie, issue dated 22nd September 1990.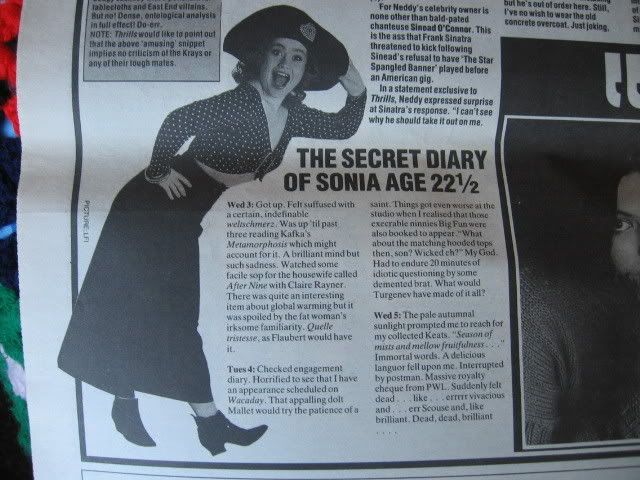 The text reads:
"
THE SECRET DIARY OF SONIA AGE 22 and a HALFMon 3:
Got up. Felt suffused with a certain, indefinable
weltschmerz
. Was up 'til past three reading Kafka's
Metamorphosis
which might account for it. A brilliant mind, but such sadness. Watched some facile sop for the housewife called
After Nine
with Claire Rayner. There was quite an interesting item about global warming but it was spoiled by the fat woman's irksome familiarity.
Quelle tristesse
, as Flaubert would have it.
Tues 4:
Checked engagement diary. Horrified to see that I have an appearance scheduled on
Wacaday
. That appalling dolt Mallett would try the patience of a saint. Things got even worse at the studio when I realised that those execrable ninnies Big Fun were also booked to appear. "What about the matching hooded tops then, son? Wicked eh?" My God. Had to endure 20 minutes of questioning by some demented brat. What would Turgenev have made of it all?
Wed 5:
The pale autumnal sunlight prompted me to reach for my collected Keats.
"Season of mists and mellow fruitfulness..."
Immortal words. A delicious languor fell upon me. Interrupted by postman. Massive royalty cheque from PWL. Suddenly felt dead...like...errrrr vivacious and...err Scouse and, like brilliant. Dead, dead brilliant."